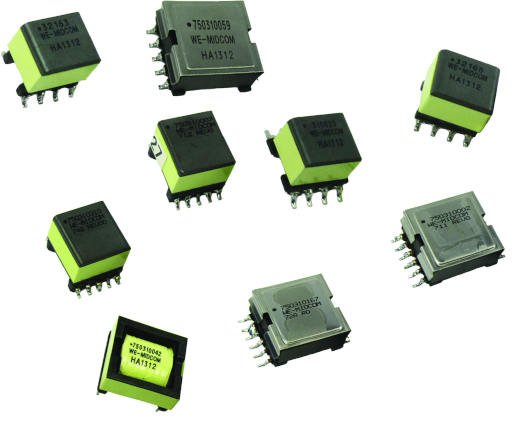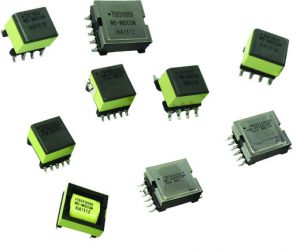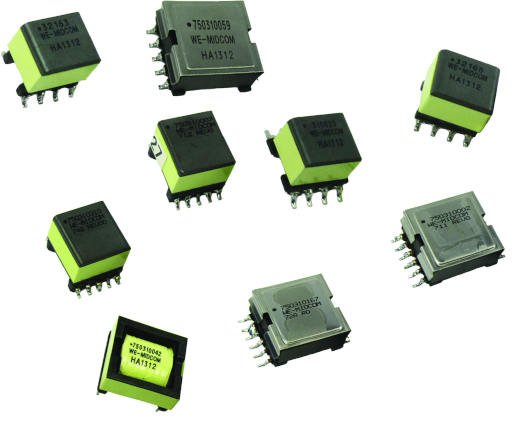 These surface-mount devices are suitable for fly-back or active clamp forward converters that comply with the IEEE 802.3bt: the four-pair power-over-Ethernet known as 4PPoE or PoE++.
"Demand for more power in PoE devices has risen due to advancements in smart and IoT applications," according to the company. "In response, Würth Elektronik expanded its series for 60W IEEE 802.3bt Type 3 and 90W Type 4 devices. These transformers utilise low-profile EFD20 and EFD25 packages, and offer high power densities over a wide range of common PoE output voltages."
Applications are foreseen in video conferencing systems, automation control systems and smart IP cameras. Custom versions are possible on request.
At a glance
In all cases, input range is 33-57Vdc and Vaux is 12V
Part
Topology
Vout
Iout
Vaux
L
(uH)
N
pri:sec:aux
Isat
Fswitch
kHz
L
W
H
750318961
Active clamp forward
5
19
12
70
4:1:2.5
–
200 – 300
21.8
29.65
11.43
750318962
Active clamp forward
12
8
12
70
1.6:1:1:1
–
200 – 300
21.8
29.65
11.43
750319033
Active clamp forward
5
14.6
12
70
4:1:2.5
–
200 – 300
21.8
29.65
11.43
750319034
Active clamp forward
12
6
12
70
1.6:1:1:1
–
200 – 300
21.8
29.65
11.43
750319020
CCM fly-back
5
19
12
17
5:1:2.5
11.4
250
27.03
32.45
13.97
750319036
CCM fly-back
12
6
12
16
2.33:1:1
10.4
250
21.8
29.65
11.43
750319069
CCM fly-back
24
3
12
16
2:1.86:1
10.4
250
21.8
29.65
11.43
750319021
CCM fly-back
12
8
12
22
2.4:1:1
10.8
250
27.03
32.45
13.97
750319032
CCM fly-back
24
4
12
22
2.4:2:1
10.8
250
27.03
32.45
13.97
750319035
CCM fly-back
5
14.6
12
16
4.67:1:2.33
10.4
250
21.8
29.65
11.43