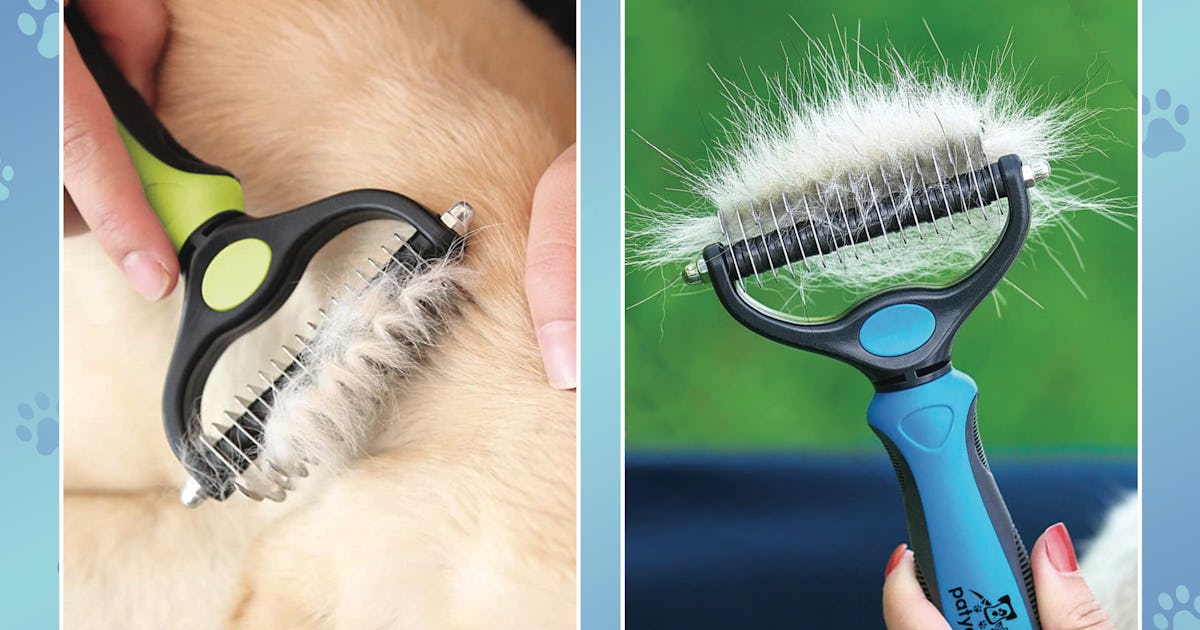 According to Dr. Rebecca Greenstein, veterinary medical advisor for Rover, the best undercoat rakes are "designed to strip away loose and ragged undercoat to keep their skin healthy and their fur shiny, even, and in tip-top shape." Still, there are several factors that dictate whether or not you're buying the right one for your pet. Once you've determined that your pet has an undercoat and needs it groomed in the first place (because some animals don't), you'll need to consider the size of the rake, the width of the teeth, and the number of rows.
First, consider the size of your pet, which will directly influence the size of the rake: "Smaller cats would be well suited to smaller tools that allow you to strip away undercoat in small sections. Similarly, larger dogs usually need larger rakes since they have a larger surface area to tackle," Dr. Greenstein wrote to Bustle. (Note that the same rakes often work for both cats and dogs, assuming the size is appropriate.)
Next, the best width of the teeth and the number of rows will depend on the density of the fur: "For dogs with coarser or tangled fur, wider-set teeth might be easier to use and often cause less pulling if they get stuck in knotted areas," Dr. Greenstein wrote. "For animals with extremely dense undercoats or those long overdue for maintenance grooming, some groomers will carefully use rakes with more than one row of teeth, but it depends on the groomer and on the individual pet." Finally, "cutting-style rakes are usually reserved for dogs with thicker, denser undercoats since they sometimes risk damaging the top coat and delicate skin of finer haired breeds."
Last but definitely not least, Dr. Greenstein recommends that you "consult your vet or a professional groomer" before tackling the undercoat. You don't want to "accidentally harm their beautiful coat or delicate underlying skin!"
1. The Most Gentle Option
For $9, you can grab the FURminator grooming rake, which despite its affordable price, has earned a 4.7-star rating overall from thousands of reviewers. It's the best pick for pet owners who are hesitant of sharp edges and several rows, because the teeth on this one are rounded and rotating to tackle thick, dense fur in a gentler way. While its wide head is best-suited for larger animals, reviewers have also used it on small cats and dogs without issue.
One reviewer wrote: "I have 2 labs (short, thick coats) and a Burmese cat (short coat). This is a very gentle but effective grooming tool. They all love it and I was surprised at how much fur it removed. One of our labs is getting older now and doesn't like any pulling on her coat anymore."
2. A Double-Row Rake That's Great For Long Undercoats
Thanks to its double rows of stainless steel pins, this Nomad rake is especially effective for dense, long undercoats on dogs or cats. According to the brand, it'll reduce shedding by up to 90% after just one session, which makes it significantly more effective than the average grooming tool. It also has a comfort-grip handle, and its moderately sized brush head works on small, medium, and large pets alike.
One reviewer wrote: "I have a husky who sheds constantly, I have used other brushes but this one seems to work best and she loves it! I recommend this brush for anyone with a dog with long dense fur, it works great!"
3. The Best Cutting-Style Undercoat Rake For Large Pets
For larger pets (both dogs and cats), there's this versatile grooming tool from Pat Your Pet. It has a two-sided design so it both de-tangles and removes the undercoat, and its ample teeth and 3.5-inch head help it to cover more surface area with fewer strokes. The teeth are also curved, so they're gentle against your pet's skin, and the ergonomic grip makes it just as comfortable an experience for you. Currently, this pick is a number-one best-seller and has almost 20,000 reviews and a 4.5-star overall rating.
One reviewer wrote: "Our dog (65 pound Malinois) doesn't like the pointy wire brushes, and the rubber or plastic ones don't work at all. Thankfully, he loves this one. It works so well at getting the loose fur off of him."
4. The Best Cutting-Style Undercoat Rake For Small Pets
The LUKACY undercoat rake is a dual-sided tool that has five large teeth on one side (for stubborn tangles) and 10 smaller teeth on the other side (for deshedding and thinning the undercoat). That, combined with its no-scratch design and 2.5-inch width, makes it the ideal tool for most smaller cats and dogs. It also comes with a tool that helps you remove fur from the carpet or sofa, so it's no wonder over 1,600 reviewers have given it a 4.4-star rating overall. It's also available in a 3.5-inch version, though it's not quite as tried-and-tested as the first pick for larger pets.
One reviewer wrote: "I use this mainly for my cat. It gets all of her undercoat out really easy. I have a small dog that does not shed and I use it on her as well."
5. A Cutting-Style Undercoat Rake Designed For Stubborn Matting
Finally, there's the Maxpower Planet cutting-style tool, which is the best option for pets who are long overdue for grooming. This one has a double-sided design that allows you to both remove tangles and prevent shedding — but its widely spaced teeth are made from rounded stainless steel that cuts through matting and knots without too much tugging and pulling for your pet. According to reviewers, it works for both cats and dogs. Get this one in your choice of four colors.
One reviewer wrote: "I was very surprised at how well this gets deep, embedded mats out of thick, long dog fur. We have a livestock guardian dog who spends most of his time outside. Apparently he rolls and wallows in burrs and leaves as a hobby, and it's very difficult to keep up with the debris in his matting. This pulls and cuts the mats at the same time with what seems to be minimal discomfort to him."