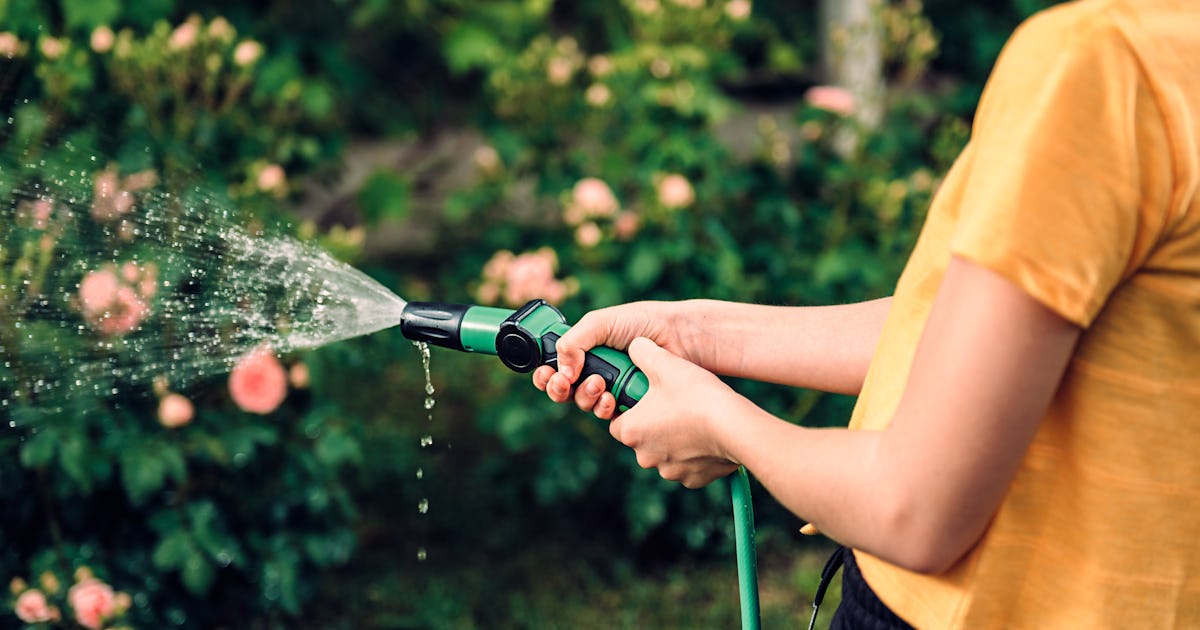 Tangles, leaks, and kinks — all total headaches that you can avoid by investing in the best garden hoses. Top garden hoses are first and foremost made from durable materials, with bodies made from rubber, steel, polymer, or latex, and couplings (aka the connection points between the hose and the water source or another hose) that are made from metal to last for the long haul. Durability isn't the only factor when picking out a hose, though, so you'll want to determine the proper size for your needs, as well as how much water pressure it needs to be built to withstand before you buy.
When it comes to choosing the material of your hose, these are the most common options:
Rubber: Erinn Witz, garden expert and co-founder of Seeds And Spades, explains that "rubber hoses are usually the toughest you'll find out there, and you can expect a rubber hose to last for at least a few years, with proper usage/care." However, rubber hoses tend to be heavier. Plus, they can be pricy.
Steel: Steel is an incredibly durable pick for a garden hose, and steel hoses are also the least likely to kink. However, Witz points out that this material "can spring leaks, and there's no effective way to repair them once that happens."
Polymer: Polymer hoses are pretty durable, with an inner layer of woven mesh that gives the hose structure, plus a strong, weather-proof exterior. According to Witz, "they're an overall pretty solid choice for most people," though they do come with the risk of kinking.
Latex: Expandable hoses, which increase in length during use, typically have a latex core surrounded by flexible fabric, so they're super lightweight and easy to store. However, Witz points out, "expandable hoses aren't intended for heavy use, and they tend to spring leaks pretty easily." She recommends expandable hoses for watering near the house, so long as you're prepared to replace them "every year or two."
Beyond the material of the hose itself, it's important to note the material of the couplings and avoid plastic ones. According to Ryan Smith, owner of Ant and Garden Organic Pest Control, plastic couplings can "easily crack especially under the sun and are more prone to leaks." Instead, opt for picks with brass couplings, which Witz recommends since brass "resists rusting, is BPA-free, and doesn't have a lot of expansion/retraction due to temperature fluctuations." Smith also recommends aluminum couplings, as they're "durable and can resist heat very well."
Garden hoses come in a range of sizes, so make sure to think about which size will meet your needs. Jonathan Green, senior regional service manager at Northern Tool + Equipment, notes that going with the longest hose that you can find is not necessarily the best idea, since "the shorter the hose, the less loss of pressure." To choose the best length, Green recommends that you "measure the distance you need to cover and give yourself a couple of extra feet." Width is also something to consider; while most garden hoses come with a 5/8-inch diameter, Smith points out that "hoses with bigger diameter can carry more water," a plus if you have a lengthy hose. No matter the length of your hose, it's not a bad idea to keep it on a hose reel so it doesn't get tangled.
It's also vital to ensure you pick a hose that can handle your water pressure and environment. Many picks list a burst strength — often described in pounds per square inch (PSI) — aka the amount of water pressure the hose can handle before ripping or bursting. As a general rule, you should try to choose a hose with a burst pressure that's about four times the usual water pressure from the spigot, which typically varies from 40 to 60 PSI. Another detail to note is the temperature that the garden hose can operate at. Many picks can withstand a range of temperatures from sub-zero to scorching hot, but this isn't always the case, so just keep that in mind when purchasing.
These four garden hoses have rave reviews on Amazon, ensuring they're durable, leak-free, and worth adding to your collection of garden tools and supplies.
1. A Fan-Favorite Polymer Garden Hose
Available lengths: 3 feet, 5 feet, 10 feet, 25 feet, 50 feet, 75 feet, 100 feet
It's no wonder that this garden hose from Flexzilla is an overwhelming favorite on Amazon, boasting a knockout 4.6-star rating overall, among 35,000 and growing reviews. For one, the hose is made from an ultra-durable polymer blend that's actually excellent at resisting kinks and coils. The hose's anodized aluminum fittings are crush-resistant, so they're plenty durable as well, and the whole thing can withstand temperatures from as cold as -40 degrees Fahrenheit all the way up to a scorching 140 degrees Fahrenheit — nope that's not a typo! The hose has a 5/8-inch diameter.
The only downside to this pick? It's on the heavier side; the 75-foot option weighs 11.34 pounds.
Enthusiastic Amazon review: "Have these hoses on all of my outdoor faucets now. They are nothing short of amazing. Much easier to move around and roll up then a conventional hose. I haven't had any issues with any of them in the 5 years I've owned them. Highly recommend."
2. A Durable Rubber Garden Hose With A Lifetime Warranty
Available lengths: 25 feet, 50 feet
Burst strength: 125 PSI
When it comes to durable garden hoses, it's hard to beat a rubber pick, and this option from Dramm is honestly the best of the best. But don't just take my word for it; Amazon reviewers give this pick a whopping 4.6-star rating overall on the site, among more than 1,000 ratings, with many reviewers noting that this pick is seriously heavy duty! Heck, it even has nickel-plated, crush-proof brass couplings. The hose is flexible to -25 degrees Fahrenheit, and it can withstand temps up to 160 degrees Fahrenheit. While the working pressure of 125 PSI isn't the best if you have super-high water pressure, this garden hose should work for most people's homes; in fact, a Bustle commerce editor spent a summer watering her garden with this pick and had no complaints whatsoever. That said, the hose is covered by a lifetime warranty should you run into any issues.
Choose from two lengths (25 feet or 50 feet), two diameters (1/2 inch or 5/8 inch), and six vibrant color options that will be super easy to spot in the grass. This garden hose weighs just under 4 pounds for the 25-foot, 5/8-inch version.
Enthusiastic Amazon review: "This hose is well constructed. It doesn't kink or get twisted up like other hoses we've had in the past. It's heavy duty, and the connections are better quality than our previous hoses. I expect it will serve us well over a long time."
3. A Lightweight Stainless Steel Garden Hose
Available lengths: 25 feet, 50 feet, 75 feet, 100 feet
Burst strength: 500 PSI
This garden hose from Bionic Steel will be super easy to maneuver through your garden as you work since it's lightweight (the 50-foot version weighs just 2 pounds!) and made from commercial-grade 304 stainless steel that won't get rusty even when wet. The steel's interlocking design offers plenty of flexibility, and the hose even has a built-in on and off valve for ease of use. Another big plus of this pick is its durability; the hose boasts a whopping 500 PSI burst strength, so it can withstand powerful streams of water without rupturing. It's built to last through sub-zero temperatures and extreme heat alike, and the solid brass fittings are also virtually leak-proof.
This pick boasts a 5/8-inch diameter and comes in four lengths — 25 feet, 50 feet, 75 feet, and 100 feet. The garden hose has a 5-year warranty.
Enthusiastic Amazon review: "This is the 2nd time I've bought this – this time for a friend. Best hose ever. We live in the desert where hoses get super hot and also easily punctured. This hose is sturdy, lightweight, impervious to cactus, and frankly, just awesome. No complaints, it's a GREAT hose!!!!"
4. A Highly Rated Flexible & Expandable Hose
Available lengths: 50 feet, 75 feet, 100 feet
Burst strength: 174 PSI
With more than 24,000 reviews on Amazon and a solid 4.4-star rating overall, reviewers love how much this garden hose from Flexi Hose can expand, growing up to three times its original length when the water is turned on. The hose shrinks back down when not in use, which is super convenient if you don't have a lot of room for storage. Expandable hoses tend to get a bad rap for being quick to break, but this hose features an elastic outer fabric with four layers of latex to protect the inner tube from thorns, punctures, and sharp corners. The manufacturer states that each hose has been endurance tested to 2,000 uses and found to withstand a water pressure up to 174 PSI, not to mention temperatures between 41 and 113 degrees Fahrenheit (just don't use it in freezing temps!). Solid brass fittings ensure that this pick won't leak at the spigot or at a connection point with another hose either.
This garden hose is impressively lightweight at just 3.78 pounds for 75 feet, and it has a 3/4-inch diameter. Choose from three lengths — 50 feet, 75 feet, and 100 feet — and a variety of color options. As an added bonus, this pick comes with a spray nozzle that has eight shooting patterns and an ergonomic, slip-resistant rubberized handle for comfort.
Enthusiastic Amazon review: "I always hated dragging around our heavy, rubber hose, especially since we had to cover distance between front and back gardens of the house. I also hated the cumbersome hose reel that we were forced to have to manage the thing. Now, with this lightweight hose that we can roll up and store in a pot, that's no longer necessary. It is so easy to use and the little sprayer that came with it is actually kind of nice. We liked it so well we bought a 2nd one. I highly recommend this hose. So far, it's durable, lightweight, and does its job admirably."
Experts:
Ryan Smith, owner of Ant and Garden Organic Pest Control
Erinn Witz, garden expert and co-founder of Seeds And Spades
Jonathan Green, senior regional service manager at Northern Tool + Equipment