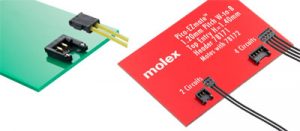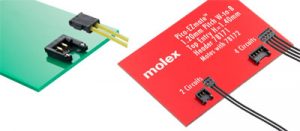 If you are working on a new design where space is tight or just need a low height from your wire to PCB board connections, then you will want to check out the EZmate connectors from Molex.
With a 1mm pitch connector – one of the smallest from Molex's vast range – it has an astonishing low height of 1.55mm and 1.65mm which is seriously low compared to other traditional connector systems such the Picoblade or JST's ZH Series.
The technology is similar to SD Card type of connectors where the slim fit connectors slot into place with a satisfying click latching system. However, on this system the connector is mated from above.
Wire gauges catered for range from 28-30 AWG and can deliver 2.8A. To put this into context, your USB charger you use for your mobile phone probably is anywhere between 1-2A meaning this delivers a sensible amount of power, making it ideal for small devices that need constant charging.
An additional well thought out feature is the latching system, which is designed to withstand devices being dropped and subjected to vibration.
With this in mind you can imagine the vast range of devices this will be suitable for.
Assembly
From an assembly point of view Molex have made it easy to introduce as hand tools for prototyping are available, so no need to pay the large investment required for application tooling. However, that is what your cable assembly partner will already have invested in if you use sub-contractors.
Overall, we think this is a well thought-out and clever interconnect system with some great features making it easy to adopt and a decent power delivery can be used for both power and signal applications.
When you are looking to save device space and specifically reduce device heights, we recommend taking a closer look.
Nick Locke, Nicab Ltd