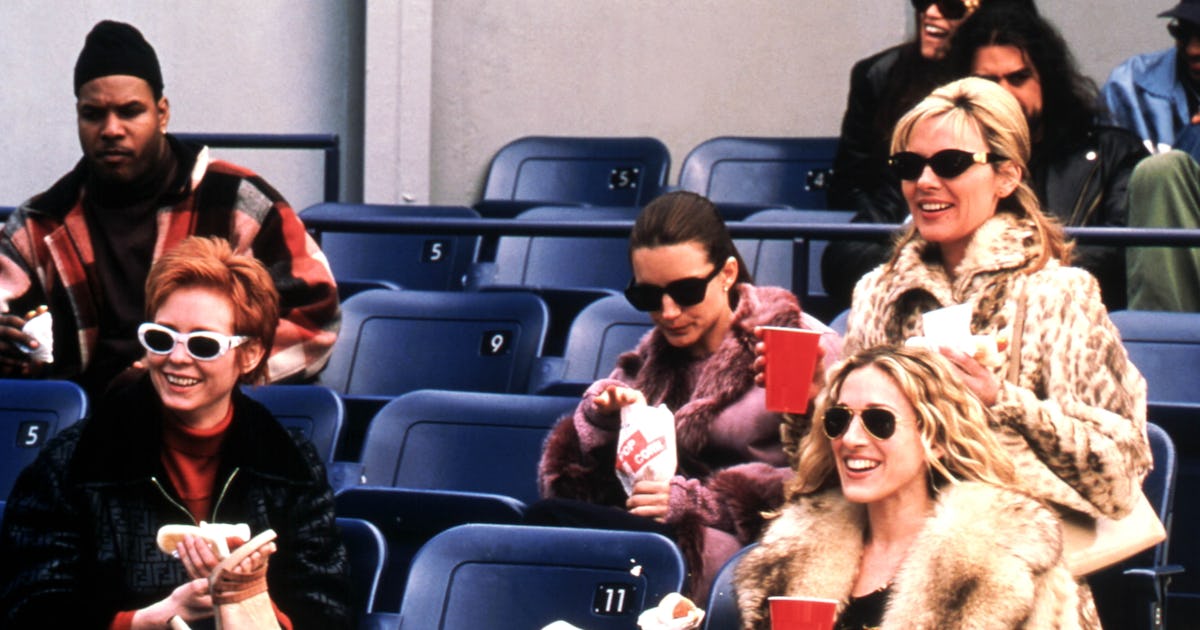 Sex & the City may have ended in 2004, but with two feature films and a prequel series under its belt, it's safe to say the show has a life beyond its initial run. Now, the hit series is officially returning to the small screen with Sarah Jessica Parker, Kristin Davis, and Cynthia Nixon in tow. So here's everything we know about the Sex and the City reboot, including the details behind Kim Cattrall's noticeable absence and if Chris Noth will return as Mr. Big.
The Sex and The City Reboot Plot
Titled And Just Like That… and consisting of ten half-hour episodes, the upcoming series will follow Carrie Bradshaw (played by Parker), Charlotte York (Davis), and Miranda Hobbes (Nixon) as they "navigate the even more complicated reality of life and friendship in their 50s," according to a press release. All three actors shared the same teaser video on social media, with Parker adding the caption: "I couldn't help but wonder… where are they now?" The video, which sees footage of busy NYC streets, is accompanied by someone typing the title of the reboot accompanied by Carrie's familiar narration.
In a Feb. 10 virtual interview for the Central Park Conservancy's Playground Partners, Parker said the idea originally started as a potential podcast between Parker and showrunner Michael Patrick King. "It actually happened during shelter in place, I was listening to a podcast and it occurred to me that Michael Patrick and I had never talked about our experience working and producing the show," she began. "We started talking about maybe doing a podcast and as we were talking about that we just realized 'Why are we doing a podcast? Should we maybe think about a new chapter?'"
The Sex and The City Reboot Cast
Parker, Davis, and Nixon are all confirmed to return, but some original characters will be noticeably absent. Although Page Six previously reported that Chris Noth would not reprise his role as the polarizing Mr. Big, Noth's return to the Sex & the City universe was confirmed on May 26. In response to the exciting announcement, King said in an official statement, "I'm thrilled to be working with Chris again on And Just Like That… How could we ever do a new chapter of the Sex And the City story without our Mr. Big?"
When rumors about his involvement in the series first began to circulate, Noth weighed in on speculation via Instagram. "Everything changes — including announcements in the rags," the 66-year-old actor commented when a fan asked if he would appear in the revival. When another commenter asked Noth to not make viewers "sad" with his absence and to "please reconsider" making a cameo, he replied, "Well, if Page Six says it … it must be true 😉."
Another actor highly likely to return to the cast is John Corbett, who plays Carrie's ex-fiancé, furniture designer Aidan Shaw. On April 15, Corbett revealed that he would reprise the role in an interview with Page Six, saying that he thinks he might be in quite a few episodes, and that it was "very exciting." HBO declined to comment.
In response to an Instagram post reporting the by Sex & The City fashion account @everyoutfitonsatc, Parker commented, "I'm not saying one way or another whether our beloved Mr Corbett's interview deals in facts or fiction but the response is amazing to read."
David Eigenberg, who played Miranda's husband Steve Brady, is also reportedly still in negotiations about returning. He told Us Weekly in March, "I really love that show," and added that he looked forward to possibly working with Nixon again as she's "a dream to work with".
On May 19, HBO Max announced that Grey's Anatomy star Sara Ramirez will be joining the cast of And Just Like That… as the franchise's first main cast member that doesn't identify as a straight white woman. Ramirez will portray Che Diaz, a queer, non-binary comedian who hosts a podcast that often features Carrie Bradshaw as a guest and has become popular for its humor and progressive takes on gender and sexuality. Whether Che (who, like Ramirez, uses they/them pronouns) will officially join Carrie, Miranda, and Charlotte's friend group is to be determined, though they'll certainly help fill the void left by one beloved character's absence. Which brings us to…
Why Samantha Won't Be In The Sex and The City Reboot
Samantha Jones (Cattrall) won't appear in the reboot, which is unsurprising considering Cattrall has been pretty vocal about not wanting to return to the role. In the past few years, Cattrall has publicly distanced herself from Sex & the City and her co-star Parker. She has even been accused in the past of being the reason a third Sex & the City movie did not happen, a statement to which she adamantly denies. "It's quite extraordinary to get any kind of negative press about something I've been saying for almost a year of 'no', that I'm demanding or a diva," she told Piers Morgan in 2017. "This is really where I take to task the people from Sex & the City, and specifically Sarah Jessica Parker, in that I think she could have been nicer."
However, it appears that Parker has no issues with her former co-star. As captured by Entertainment Tonight, Parker dismissed rumors of a feud with Cattrall in the comments section of her Instagram post. "No. I don't dislike her. I've never said that. Never would," she responded to one follower before confirming that Cattrall would not star in the reboot. "Samantha isn't part of this story. But she will always be part of us. No matter where we are or what we do."
Corbett also said in his Page Six interview that he never noticed any tension on set between Cattrall and Parker, saying that "they were always cordial" and that "I never saw it or heard about it". He did note, however, that he only worked closely with Parker and only had one scene that included all the girls.
Last December, Cattrall shared her philosophy of leaving things in the past and moving on. "Walking away, even if it's the only thing to do, you always feel a bit of shame I think," she told the Women's Prize for Fiction podcast (via Bustle). "You have to let go of that [shame]," she continued. "You don't want to become that caged bird." Cattrall added that "being in new territory is always exciting," but at this period of her life she wants to use her platform "to tell stories about women my age who have gone through loss." Over the past decade, the actor lost her father and brother. "Loss is the biggest headache of my 60s so far," she said.
Despite Cattrall's public comments, it seems that her co-stars are keeping the door open for a future return. Parker remarked in a separate Instagram comment that she, Davis, and Nixon will miss Cattrall, and hinted that fans haven't heard the last of Samantha just yet. "She will always be there. And we are so excited," she wrote. There's always the possibility that Cattrall could have a change of heart, but for now, Sex & the City will return sans Samantha.
As for how her character's absence will be explained in the story, HBO Max Chief Content Officer Casey Bloys told TVLine, "Just as in real life, people come into your life, people leave … Friendships fade, and new friendships start. So I think it is all very indicative of the real stages, the actual stages of life." He continued, "They're trying to tell an honest story about being a woman in her 50s in New York. So it should all feel somewhat organic, and the friends that you have when you're 30, you may not have when you're 50."
The Sex and The City Reboot Premiere Date
According to HBO, production is set to begin in New York City this spring, so a late 2021/early 2022 release seems most likely.
Contributions from Sophie McEvoy, Savannah Walsh, Kay Leong, and Jack Irvin.
This article was originally published on