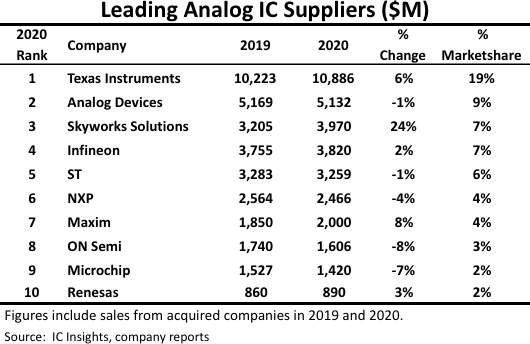 What are the topics covered this week? There's the University of Edinburgh buying a BullSequana XH2000 supercomputer, a conversation about customer demand and inventories with Digi-Key, TSMC's latest innovations in advanced logic technology and Texas Instruments maintaining its grip as the leading supplier of analogue devices…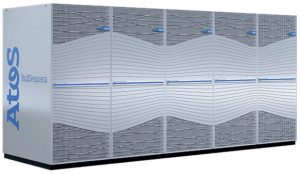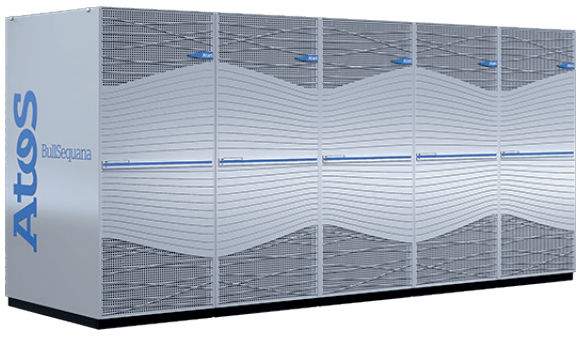 5. University of Edinburgh buys French supercomputer
The University of Edinburgh is to buy a BullSequana XH2000 supercomputer from Atos of France. "The system will constitute the extreme scaling service of the UK's DiRAC HPC facility," according to Atos. "The platform will allow scientists across the STFC theory community to drive research in particle physics, among other areas, using Nvidia GPUs and AMD processors." DiRAC (distributed research utilising advanced computing) combines high-performance computing resources hosted by the Universities of Edinburgh, Cambridge, Durham and Leicester.
4. [Video] In Conversation with Digi-Key… Market developments, challenges and chip shortages
Electronics Weekly talks with Jim Ricciardelli – Executive Vice President, Sales and Marketing at DigiKey Electronics – about the challenges facing the electronics industry in 2021 and what market developments can be anticipated in terms of customer demand, inventories and deliveries…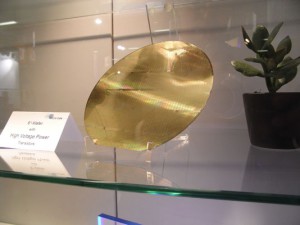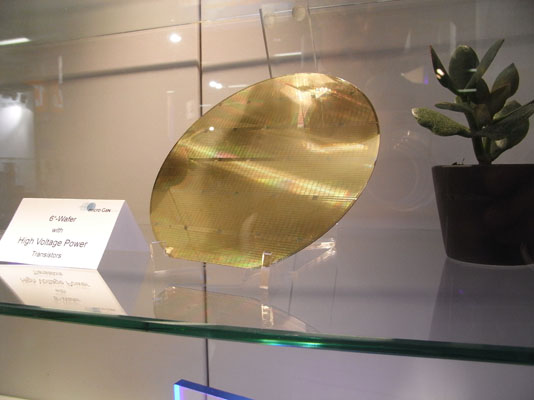 3. Silicon Catalyst UK launched
Silicon Catalyst, the world's only incubator focused exclusively on accelerating solutions in silicon, announced today that it will be bringing its platform locally to the UK and European start-up community. Heading SiliconCatalyst.UK are Dr Ron Black and Sean Redmond, both experienced semiconductor executives with international experience and a strong connection to the United Kingdom. The ecosystem that Silicon Catalyst has created lowers the capital expenses associated with the design and fabrication of silicon-based ICs.
2. TSMC Technology Symposium: Innovations unveiled
Today, TSMC is unveiling its latest innovations in advanced logic technology, specialty technologies, and TSMC 3DFabric advanced packaging and chip stacking technologies atits 2021 Technology Symposium. Taking place online for a second year, the symposium connects customers with TSMC's new offerings, including N6RF for next-generation 5G smartphone and WiFi 6/6e performance, N5A for state-of-the-art automotive applications, and enhancements across the range of 3DFabric technologies.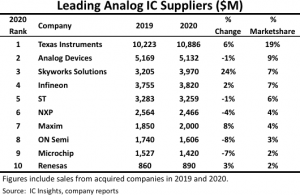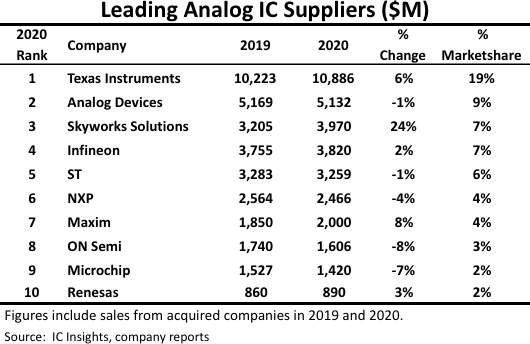 1. TI extends lead as No.1 analogue player
With analogue sales of $10.9 billion and 19% market share, Texas Instruments maintained its firm grip as the leading supplier of analogue devices in 2020, according to IC Insights' April Update to the 2021 McClean Report. TI's analogue sales increased about $650 million or 6% compared to 2019. TI's 2020 analogue revenue accounted for 80% of its $13.6 billion in IC sales and 75% of its $14.5 billion in total semiconductor revenue. The ten leading analogue IC suppliers for 2020 (Figure 1) accounted for $35.4 billion in analogue IC sales.