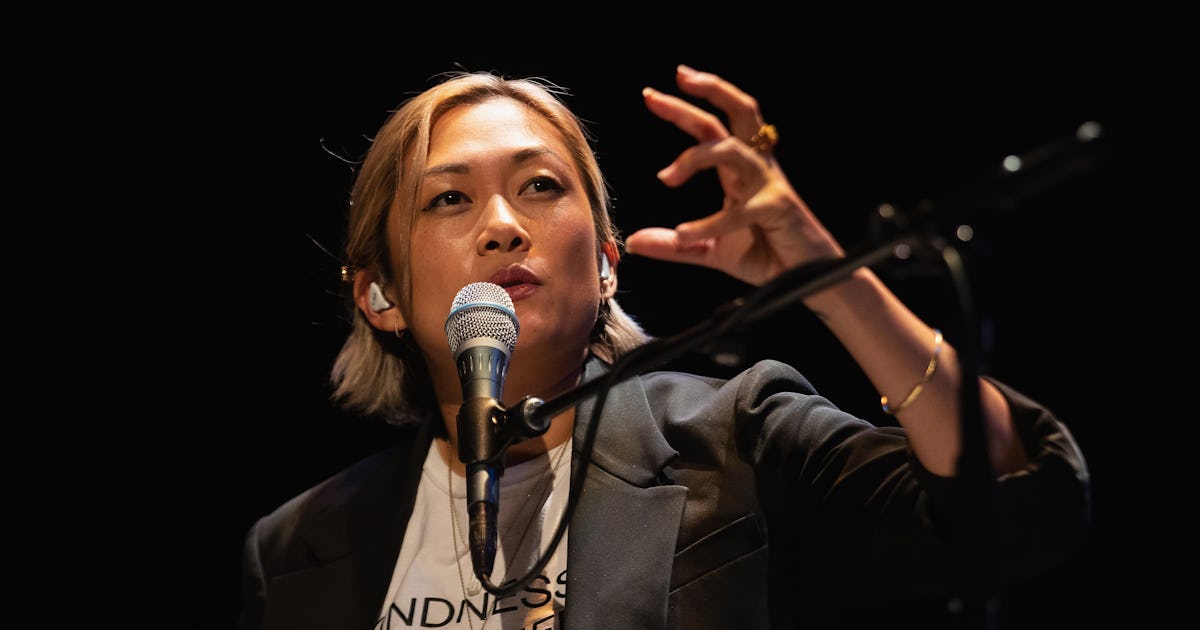 Last December, Connie Kimberly Lim was in Raphael Saadiq's Los Angeles recording studio with Jordin Sparks, covering The Beatles' "Come Together." Saadiq and Sparks have four Top 10 hits and 16 Grammy nominations between the two of them, and Lim, who goes by MILCK professionally — it's her surname backward, plus the first letters of her given and middle names — felt stalled by imposter syndrome. She excused herself to the restroom.
"I was just like, What am I doing here?" she recalls. She washed her hands and sang a mantra to herself: "I belong, I belong, I belong." And she did.
The cover was released soon after as part of the Saadiq-produced Stand Up album for Global Citizen. Sparks and MILCK duet the Beatles number, which was conceptualized by John Lennon as a political song. MILCK is, of course, known for a political song of her own: "Quiet," an anthem-by-accident that she wrote in 2015 about her experiences with domestic violence, depression, and anorexia, which gained additional meaning on the heels of Donald Trump's 2016 victory. Ahead of the Jan. 21 Women's March, she gathered 20-some a cappella singers to perform it at various points during the Washington, D.C., protest. It went viral, and Billboard later named it the year's No. 1 protest song.
I think I saw her perform it live, or else I watched director Alma Har'el's phone recording of the performance on repeat — those months have blurred and tangled in my mind. But MILCK's lyrics ("I can't keep quiet, no / A one-woman riot") were sharp and focused during a time when many minds were not. They captured the national mood, as well as the attention of Samantha Bee and Atlantic Records.
"'Quiet' is like an old friend who knows me really well," MILCK, 35, says of the song now. "As a young woman, I hid and camouflaged a lot, and because of that song, I can't hide anymore. I have a true friend that calls me out."
Today, the greater Los Angeles native releases a new single, "I Belong," born from her December meditation and adapted to the current moment, when anti-Asian racism is rising nearly 150% nationally, according to the nonprofit Stop AAPI Hate. It's the inaugural single from her forthcoming independent album, and her first since leaving Atlantic Records last year.
Bustle is exclusively premiering the music video, which was filmed at the Tennessee Immigrant & Refugee Rights Coalition in Nashville. To celebrate its launch, MILCK talks to Bustle about ambition, her next album, and her perspective on leaving Atlantic.
Brianna Kovan: When did you decide to turn the mantra "I Belong" into a full song?
MILCK: In the studio, it had felt like my imposter syndrome was just [about] career, but when the Atlanta shooting happened, I realized my state of questioning whether or not I belong goes very deep, to being the daughter of an immigrant. I had recently met this bad*ss Asian female producer, Jeia Rouge, and I was like, "Do you want to work on this song?"
Like how I leaned on "Quiet," I leaned on the creation of ["I Belong"] to get away from the news and take my power back.
How did you and Jeia go about making songs during the pandemic?
Over Zoom. By sending files back and forth, each of us got our own private time to be with the song. It felt really good. I was raised to be a people pleaser, and having space on my own forces me to really sit with what I want.
Has it been helpful to do that during a time of extreme isolation?
Now I'm craving interaction with different age groups, like babies, toddlers, elders. There's this hunger, after a year of isolation, to be with all different types of human beings.
That reminds me of my favorite line, "We belong to each other."
That's the whole point of the song. The whole song is just for that little section, those two seconds.
It's great. And this is your first independently released song, right?
Yeah, I think what I was craving after four years of being with a major label was to be able to hear myself more clearly.
Can you talk about why you left Atlantic Records?
Last year I had two management teams. I got dropped by [both] last year. A lot of this would not have happened if not for the pandemic. [One] was chasing more high-end, commercial success, and [for the other], the pandemic freaked them out, and they cut acts that weren't delivering numbers.
It was heartbreak one, heartbreak two, within the span of four months. I was like, I want to take a bet on myself, and I'm going to also leave Atlantic now. Let's burn the whole thing down and see what grows. I need to work in a wild way. And even though it's scarier without infrastructure, I feel safer in the wildness.
What can you share about your next album?
In this next collection, I'm trying to decolonize my mind, like Yuri Kochiyama [encouraged], and come to terms with my ambition. The pandemic has made me look at what I strive for. Is it because I'm trying to prove that I belong? Is it because I was told when I was younger I need to work three times harder than everyone? Everything is going to be raw.
When I wrote "Quiet," I was freeing myself from chains I didn't know I had on. I was shaming myself for being a survivor of abuse, and I had to free myself of that. Now, I'm trying to free myself of chains as a grown woman participating in this society. How do I help a revolution that I don't fully understand? How do I put into practice a more feminine, divine way of living?
I've been thinking a lot about ambition as well. Have you found that your ambition has changed form in the past year?
Absolutely. Man, I have goosebumps. There's a song that'll be part of the EP called "Pull the Plug," and I have a lyric that says, "Save me from my ambition." There's another song on the EP called "Slow Me Down," about how it's an act of revolution to take our time.
Last night, my partner and I were sitting on the kitchen floor, talking, reminding ourselves that the reason we work so hard in our careers is so that we can have moments when we don't have to worry [about finances]. And we were like, "We're there." If I cannot be present and enjoy it, that is the sadness and regret I'll have on my deathbed.
This interview has been edited and condensed for clarity.