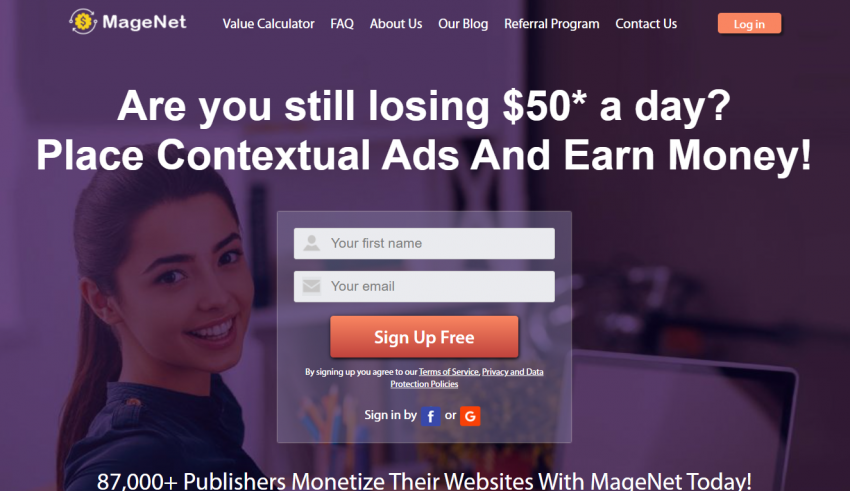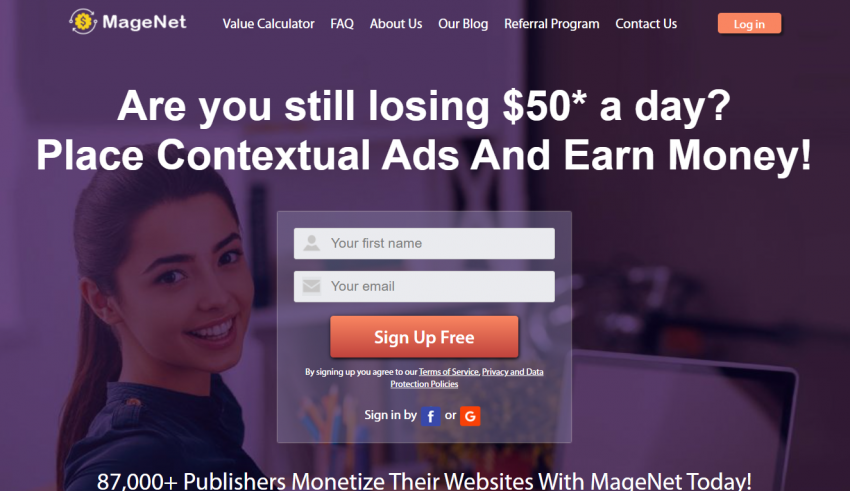 Content-based advertising has recently been one of the most popular advertising types. In this kind of advertising, ads are placed on websites based on the content they have.
This way, the ads are able to give more detailed information about the products or services they are selling. Even though these ads are not personalized based on the behavior of the viewers, the ads can show them products and services based on what they are reading.
It is a great and efficient way to boost the sales of small businesses.
We have tried MageNet and found out that it is one of the most reliable platforms where you can monetize your blog and protect it from Google Panda and Penguin algorithms. They add more relevant ads, have greater security, and you can get a lot of customization features.
Today we are going to discuss the features of MageNet, how it works, what can affect your earnings, its pros, cons and why you should give it a try.
How MageNet Works
MageNet provides content-based ads to its users. These kinds of ads are not malicious, and Google does not consider them harmful.
You can earn money by placing advertisements on your website. All you need to do is to install the MageNet Website Monetization plugin in different website motors like WordPress. You will earn some money whenever an advertiser places an ad on your website.
When a user wants to buy a link, the plugin places it and arranges the text in a way that no search engine finds it unusual, and it does not hamper the experience of the user who is viewing the website.
Features
MageNet comes packed with a lot of features. To get access to their features and start earning money via ads, all you need to do is to follow a few simple steps, and you are ready to earn. Here are some of the best features of MageNet. You can apply MageNet to sites that are dependent on not only WordPress but also other types of motors.
They allow you to choose the area and size of the ads that are to be placed on your website. They have a new plugin called Article, which will post the articles for you automatically. All you need to do is to install the plugin once, and they will handle the rest.
MageNet gives you the option to earn more by improving the quality of your website. They have introduced an algorithm that calculates the Quality Rank of your website based on various parameters. These parameters are Website Size Score, PA score, IP score, DA score, and competition. If you score higher in these categories, you will get more bonuses. You can also get two plugins where you can post tasks automatically. You can write up to 500 characters. You can add as many websites as you want. You need to send the URL of your pages to them after joining the platform. The websites will be able to host ads once they are approved. The websites are reviewed within seven days.
You might want to know the value of the ads you are placing on your website. To help you out, MageNet has designed a tool that will help you calculate the value of your website. This will help you set the price range for your advertisers so that you do not ask too much or too little from your advertisers.
What can Affect your MageNet Earnings?
The amount of money you can earn from your website is dependent on its quality score, its PA and DA score, the genre you have selected, and what country is the domain of your website. If you increase the quality of your website, you will get an additional bonus from MageNet. Your website will earn more if you talk about general topics or if your content has a big follower base.
Your earnings will also be dependent on your location. If you host your websites in popular countries like the USA, Australia, etc., you will earn more compared to other countries.
Pros:
There are a lot of things that we liked about MageNet.
You have control over which ads are supposed to appear on your website. You can also adjust their size and position on the website.
It pays you regularly via PayPal.
It is free of cost.
It is one of the most secure methods to earn money via advertising.
It is simple and user-friendly.
It will not spam advertisements. So, your viewers' experience will not be hampered.
The ads are placed automatically by installing one plugin.
The number of websites you can monetize at once is not limited.
Cons:
Despite its large number of advantages, there are a few things that we did not like. They need to resolve these issues.
There is no live chat support.
The commission rates of the websites are not mentioned anywhere on their website.
Reasons for Using MageNet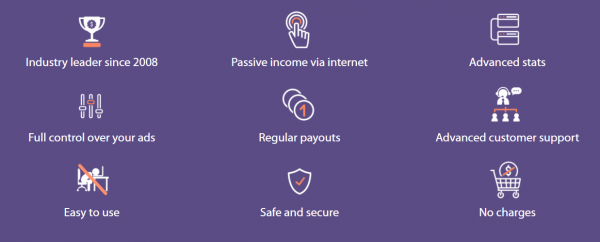 We used MageNet ourselves and were highly satisfied. Here are the reasons why you should definitely try it out.
There are multiple ways in which you can earn money. You can earn money using website monetization, referral programs, and article monetization.
It is perfectly compatible with Google AdSense. While AdSense works on a pay-per-click model, you will get a fixed price every month.
The better your website is, the more you will earn. You can earn up to a 150% additional bonus every month if you create high-quality content.
You can select which ads you want to show.
Every ad selection, negotiation, and placement will be done by MageNet themselves using the plugin.
You can always get dedicated support from their team.
The payment system is fully transparent, and you will get full access to data regarding your income. You can analyze the data and make desired changes to get more advertisers on your website.
You get a free calculator which will help you to calculate the value of your website.
They deliver payments using PayPal, so you can earn irrespective of wherever you live.
Wrapping Up
MageNet is an amazing way to earn money. It is beneficial for both parties. It is a good option for bloggers to earn money. Also, it is a pocket-friendly way for advertisers to share their products. It is one of the best Ad networks for small publishers and advertisers. We highly recommend you give it a try.