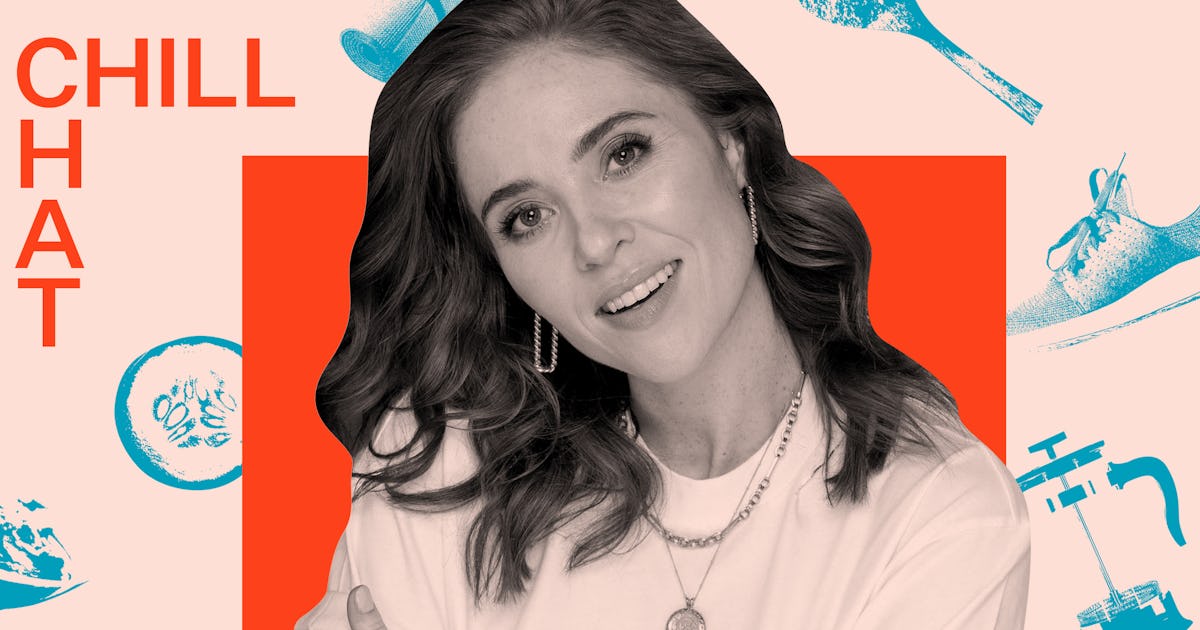 In Chill Chat, Bustle sits down with stars to chat about all things wellness, from their favourite workout to their hacks for getting a good night's sleep. Here, presenter and podcaster Angela Scanlon reveals the strict rules she has for her phone, her recipe for a perfect bath, and the unusual wellness gadget she's hooked on.
Angela Scanlon is a self-confessed wellness obsessive. The Irish presenter tells me she's an advertiser's dream, as she's willing to try pretty much anything. However, over the last 12 months, prioritising a self-care routine has meant so much more than just keeping up with the latest trends, she says.
"We talk about self-care a lot, and often it's dressed up as a petal bath, face mask, and an Instagram picture," she tells me over the phone. "But actually, for me, it's more about daily compassion. It's usually the boring, un-Instagram-worthy rituals that you do, that only you know about, that make you feel better."
Scanlon often discusses the more meaningful ways to maintain balance with guests on her podcast, Thanks A Million. Throughout the pandemic, she's spoken to the likes of George The Poet, Fearne Cotton, Dawn O'Porter, and Candice Brathwaite about all the things they're grateful for.
In April 2021, she started the 'minipod' series Thank You, Next where her guests looked back on a chapter in their life that felt like a failure, but they're grateful for now. "I was obviously aware of practising gratitude, but I launched the podcast so it would force me to practice what I preach. I didn't necessarily appreciate everything all of the time, especially when sh*t hit the fan," she says. "Being away from all of our family and all the uncertainty, I leaned heavily on it."
Thanks A Million became a community. Scanlon tells me that when things seemed dark, she asked her followers to share what they were truly grateful for. "In the grand scheme of things, they were quite small things. It'd be a daily walk with the dog or lunch in the sun," she says. "But that conscious shift in focus to what we have, rather than what we are missing, had a profound effect on me and allowed me to maintain some semblance of sanity."
Below Scanlon reveals the drink that gets her up in the morning, the face masks she swears by, and the best meditation technique for wandering minds.
Matcha or coffee?
I'm really sensitive to coffee. Anything after 12 p.m. I'm up all night, rock and roll. But recently I've really got into cacao and herbal teas. Rather than chugging a coffee and running out of the door, it's much more about the ceremony of my morning drink now. It slows everything down, and becomes a moment to pause.
If I'm feeling wild at a coffee shop I'd get an oat milk flat white, which I always finish with an apology. That order is fine if you're in London or a big city. But when I go home, you get a very big raised eyebrow.
What else forms part of your morning routine?
When I'm working, my morning routine will change, but I will still get up earlier to have that quiet time. Before, I would get any extra sleep I could. Now, I like having a cup of tea and being upright for a little bit before I face the world.
Sometimes I will do a meditation. And I generally try to stay away from my phone before I've set up my day.
I've started to take a regular multivitamin, which I didn't do for a while, too. I think I've needed it of late. I always take wild Alaskan fish oil, and use a Better You vitamin D spray. My skin has been a little bit ropey recently, so I've also been taking Accumax.
Do you have a similar wind-down routine at the end of the day, wherever you are?
Yes, I have to be really disciplined with my phone. It's the one thing that interrupts my sleep. When I'm at home, there's a clear cut-off, but if I'm travelling and I'm on my own, then I'm probably on my phone more. I try to put it down an hour-and-a-half before I go to bed.
I have a really old alarm clock at home. I also have a cushioned black-out eye mask. It's so important for me. Another thing that helps is that I'm a big bather. I've got my favourite bath products, and I will be in there for a couple of hours.
Ok, what do you need for the perfect bath?
Bath salts, for sure. I love Epsom salts or magnesium salts. I can't go without candles or incense, either. There's a brand of incense called Fenix, which I love. The packaging is beautiful, and they're totally sustainable and gorgeous.
If I've been really busy, my first instinct is to take work into the bath, so I feel productive. In this case, I will force myself to actually just sit there, without a job to do. Otherwise, I sometimes read my book or Kindle. It's just checking in with yourself, and knowing what you need.
Less is more – but if I have flowers in the house that are on their last legs, I will pull the heads off and scatter them in, too. That can be really pretty.
Are you a fan of face masks?
Yes! I really like the Olay Charcoal Mask because it's in a crayon stick, and I can just put it on where I need it. I also really love the Bliss Mighty Marshmallow whipped face mask. If I want something quite special, I will go for the Sisley Black Rose Cream mask. It's unbelievable, and smells so good.
That sounds delightful. Do you have any wellness go-tos that are a little more offbeat?
I'm absolutely obsessed with crystals. I've got quite the growing collection, and have recently started doing a course so I can understand them better.
I also really enjoy a gong bath. They were introduced to me a few years ago, and I've got progressively more into them. They're essentially meditation for lazy people. You just lie down, and let the sound wash over you. You emerge feeling cleansed and vital – or sleepy.
Then there's my grounding sheet. You plug it into the wall and it balances you in a similar way to going outside. It's amazing, and can give you a gorgeous deep night's sleep. As you can tell, I'm a dream for marketers.
When you're not grounding, how do you find balance? Do you have do regular workouts?
No, you've got me now. Exercise is the one area of my life where I've struggled to find balance.
I do quite vigorous dancing to shake a bit of energy off, and I love yoga. I've just started working with a yoga teacher called Sarah on Zoom. When I want to bail, she's there. She pushes me in the most caring way.
I'm really interested in somatic healing, which looks at how memories and emotions are stored in our bodies. I'm such an advocate for talking therapy, but if something is stuck in your elbow or collarbone, I think it's so good to really shake off the energy. It feels great.
And when I want to do that, I always put on some Florence Welch.
How has your self-care routine changed over the last year?
Since lockdown, I've managed to nail down a routine, which is something I've never had before. Partly due to my job, and maybe because I've resisted it a little bit. I've dipped in and out of meditation for years, but during the pandemic I've done it religiously.
Sometimes it might be five minutes, sometimes it's 50. Sometimes it's guided, and sometimes it's silent, and that's totally fine. It doesn't matter what shape it takes, it's just about getting away and tuning inwards.