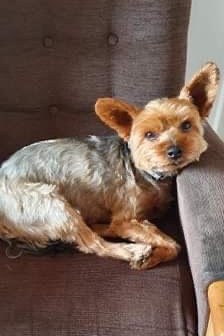 Darcy is a 7 year old male Yorkshire Terrier Cross. He's not teacup size, but still a small 7kg. He's living in a home with 2 other dogs and has been around visiting younger children too.
Darcy gets on fine with the dogs he lives with and neighbouring dogs that he's familiar with, but he barks, turns in circles and lunges when he sees dogs out on his walks. If distracted with a squeaky toy he can get by without reacting, but the best home for darcy would be one where he doesn't have to meet or see dogs whilst out on walks.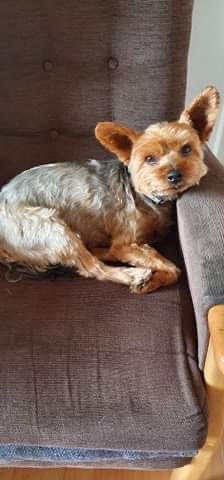 Darcy is a lovely friendly dog with everyone he meets on walks hes super with visitors to the house too. He sleeps downstairs in the kitchen with resident dogs. He is toilet trained and just needs let out the back door regularly for the toilet, and he currently has 3 walks a day where he happily has toilet stops too.
Darcy is okay travelling in a car for short journeys too. And has recently been to the groomers which he enjoyed. He loves snuggles and cuddles, he is a very affectionate little boy who unfortunately needs to find a new home now.
Darcys new home should have previous dog experience, teenage children or visiting younger children, no cats, someone around most of the day or only working p/t, within 2 hours of Winchburch, West Lothian and rural location with nice fields and country tracks to walk.
Homecheck and adoption fee applies, plus full rescue back up.