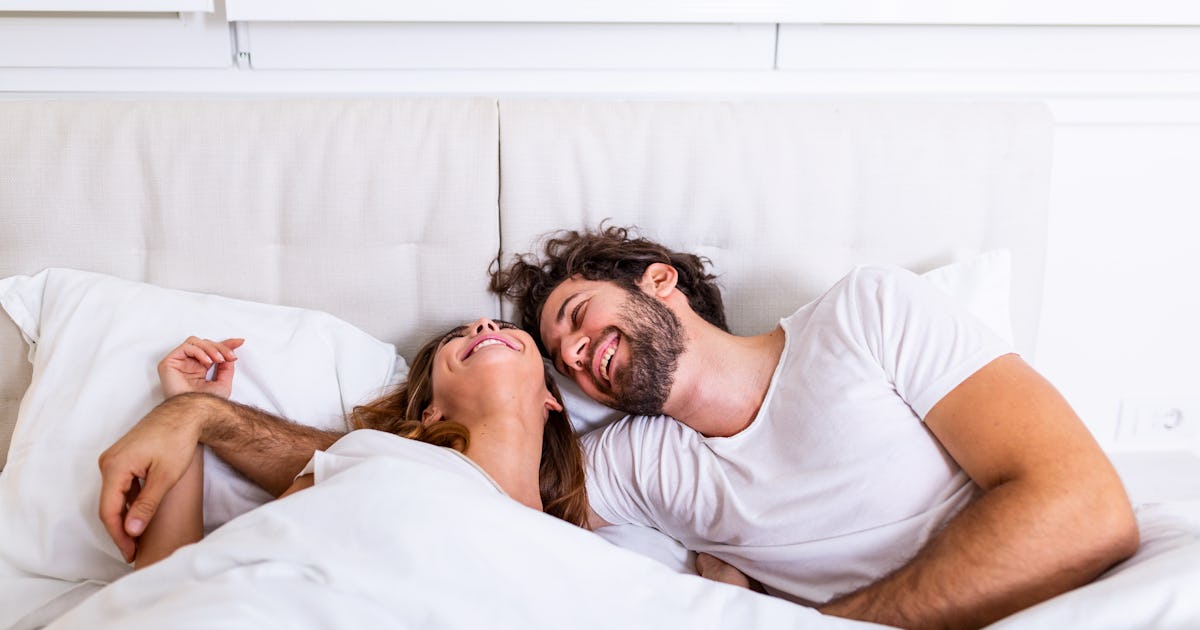 Traditionally, society tends to portray sex as an experience between a cisgender man and woman, almost always involving vaginal or penetrative sex, but there are a ton of ways to have an orgasm without vaginal sex. While vaginal intercourse can be a great go-to for some people, for others, it's not essential when it comes to having an orgasm. (In fact, a 2016 study found the key to more frequent orgasms wasn't technique, but a positive relationship in which sex was approached "openly and appreciatively.")
Vaginal intercourse may be off the table for variety of reasons, and it's not abnormal for some people with vaginas to need more stimulation than vaginal intercourse to get off. One seminal study found that one-third of people with vaginas rarely or never have an orgasm from intercourse alone. So if you have a vulva, how do you orgasm without intercourse? The easy answer: any way that works for you.
"You should never feel pressure to have a certain "type" of orgasm," says Jennifer Sandoval, Psy.D, a therapist who specializes in couples and sexual therapy. Part of exploring your body and sexuality is seeing what feels good, and what feels good to you is a blend of your anatomy (some people's clitoris is closer to their vaginal opening, which may make penetrative sex naturally more orgasmic than others), your brain, and the unique bond you have with your partner.
So consider bypassing penetration for a bit to focus on other ways to get off. "Focus on pleasure," suggests Sandoval, adding that approaching sex with an exploratory attitude that focuses on process, not achieving an O, can be a great way to find out what "works." Experiment, have fun, feel good, and if you get off? It's just the cherry on top.
1. Fingering
Who said fingering was the pre-show to the main event? Having a partner explore your vulva and vagina with their fingers can be intense and erotic. And go beyond the clitoris. While that can be the "ready, set, go" button to an amazing orgasm, you can create an erotic buildup by asking your partner to explore everywhere except your clitoris. Another way to make fingering feel more intense: Try some light BDSM-style play. For example, have your partner blindfold you or lightly tie your hands behind your back, so they can focus exclusively on your pleasure. (As always, BDSM games, no matter how low-key they may seem, can get intense quickly, so make sure you have a safe word ready, just in case.
2. Oral Sex
Tongues are incredibly dynamic tools when it comes to pleasure. Oral sex has so many different facets and can just keep getting better the longer you and your partner experiment. But besides technique (pointy tongue or flat tongue? Both amazing; both very different sensations on a vulva) the most important thing in oral sex is communication, vulnerability, and allowing your partner to pleasure you.
"Receiving oral sex can be more intensely pleasurable than genital intercourse because the person giving has more control, can vary the sensation, and focus on specific spots more readily," says Mark A. Michaels, co-author of Partners in Passion: A Guide to Great Sex, Emotional Intimacy, and Long-Term Love. You can also experiment with different positions in oral: Some people like face-sitting because of the control it offers; the 69 position can also be hot for some people to experiment with mutual pleasure. But no matter what you try, know that when you're experimenting, there may be some awkwardness, and that's OK! "Knowing ahead of time that there may be some awkward moments and approaching with humor can give you both permission to explore," says Sandoval.
3. Above The Belt Play
Groping, touching, grinding, and kissing everywhere all can be super-pleasurable — even (and maybe especially) if you've seen your partner naked a million times. That's because when we're used to having penetrative sex, everything aside from the parts at play may get short shrift. But foreplay can be orgasmic all on its own. "As adults, we tend to hone in on breasts, ass, and genitals, and don't pay much attention to the rest," notes Vanessa Marin, a licensed psychotherapist specializing in sex therapy. But there are plenty of areas on our body that are ready to play.
Nipples are an obvious option, and there's good reason to spend plenty of time there. Due to the release of oxytocin in the bloodstream during breast stimulation (a naturally-occurring sex hormone, and responsible for the tingly feeling we get when we're aroused), stimulation of the breasts and nipples can be super pleasurable all by itself.
If your nipples are extra sensitive or if you enjoy nipple play, have your partner take their time with any combination of their mouth and hands to bring your breasts to an orgasm without any below-the-belt stimulation.
4. Add Some Toys
Using a vibrator directly against your clitoris makes for an even more powerful orgasm. And while toys may seem like a solo-only activity, using them with a partner can be surprisingly erotic. You can have your partner take control, choosing the pressure, speed, and placement of the toy. For example, Bluetooth sex toys can be exceptionally sexy, even when you're right on top of each other, because your partner is in control of everything. And that not knowing what's next can engage your brain, ratcheting up intensity which can help lead to an amazing orgasm.
You can also experiment using the toy in different places — on your breasts, for example, or over your butt. (Just make sure that any toy going inside your butt is designed for that purpose; they have larger bases so there's no way they can get lost or stuck inside.)
5. Weave In Some Self-Pleasure
Self-pleasure in front of your partner may seem counterintuitive: If the real thing's right in front of you, why substitute? But there's good reason to show off in front of your partner. For one, they can see exactly what gets you off. And for another, the exhibition factor can create a potent cocktail of vulnerability and excitement that can bring you to orgasm.
Show your partner how you want to get off, and you can control just how much or how little you want to add extra touches like sexy outfits, dirty talk, and whatever else makes you feel hot, sexy, and totally in control of your pleasure.
6. Try Some Role Play
Role play isn't just doctor/nurse or teacher/student — or it doesn't have to be. But any sort of role play can be great to experiment with in the bedroom, because it allows you to tap into the incredible erotic power of your brain. Role play can start small, and you don't need any special costumes. You can pretend you're strangers who've just met and escaped to a hotel room together, or experiment with taking control and telling each other exactly what to do with each other's bodies. The point: When it comes to hot, steamy sex, your brain is your biggest pleasure organ — and the more creative ways you use it, the more creative ways you can come up with an amazing path to an orgasm, no penetration required.
Studies referenced:
Kontula, O., and Miettinen, A. (2016). "Determinants of female sexual orgasms," Socioeffective Neuroscience & Psychology.
Wallen, K., and Lloyd, E. (2011). "Female Sexual Arousal: Genital Anatomy and Orgasm in Intercourse." Hormones and Behavior.
Sources cited:
Vanessa Marin, licensed psychotherapist
Jennifer Sandoval, PsyD, licensed psychotherapist specializing in couples and sexual therapy
Mark A. Michaels, co-author, Partners in Passion, A Guide to Great Sex, Emotional Intimacy and Long Term Love.
This article was originally published on